Service Description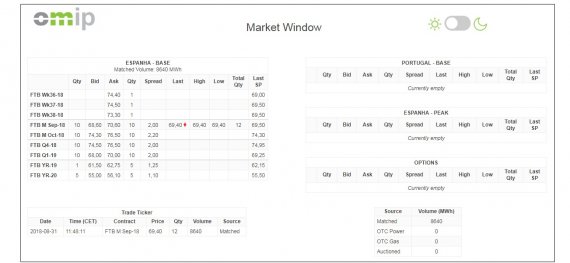 The Market Window gives you a view of OMIP Market in real time (some seconds delay), in your computer, tablet or smartphone. It provides a user friendly view of active orders on the contracts listed in OMIP, namely:
orders on Spanish (Base and Peak) and Portuguese (Base) power futures contracts.
orders on options contracts;
orders on SPEL Solar futures contracts (available soon).
The service also provides a Trade Ticker that lists all deals (continuous and OTC) executed in OMIP during the active trading day, including:
deals on power futures;
deals on natural gas physical futures.
To access Market Window you must have an active account in OMIP website and a valid subscription of the service, which you can manage on your User Profile.
Service Terms
Monthly fee: 50€ (minimum subscription period of 1 month; quarterly invoicing).